ACUM CONSCIOUSLY TOOK RISKS OF COOPERATION WITH SOCIALISTS – TO LIBERATE THE COUNTRY, MAIA SANDU SAYS
20 june, 2019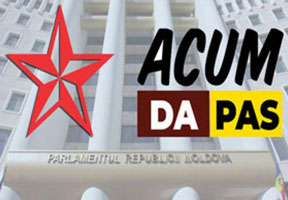 The pro-European political bloc ACUM has consciously took the risks of cooperation with the Party of Socialists for the sake of liberating the country from the Plahotniuc regime, Prime Minister Maya Sandu, an ACUM Co-Chairperson, stated on the Moldova-1 public television channel on Wednesday night.

"I admit that our cooperation with the Socialists may seem unnatural because we are so different. But we had to agree to this for the sake of liberating the country. An absolute majority of Moldova citizens wanted this because they did not wish to live under that regime any further. We took the risks and that decision was justified. We have won a victory! That was the best of what we could give to citizens, who began to breathe freely, to speak without a fear, and they have come to have a hope", said Maia Sandu.

Answering journalists' questions about the accusations being thrown at Socialists that they had allegedly received illegal funding from abroad, Maia Sandu said ACUM stands for an honest and transparent funding of all political parties.

"It is necessary to carry out investigations with respect to all parties. We have always stood up for honest and transparent funding, and have repeatedly addressed with such demands to the Central Election Commission (CEC)", said Maia Sandu, the Party of Action and Solidarity (PAS) leader.

She emphasized that the Democratic Party had always maintained lead in expenditures and in party financing from nontransparent sources.

"There is a CEC decision that the Democratic Party must return 47 million lei to the State Budget. So the Democrats must do this! The money would be extremely useful for us because the previous Democratic Government has left a yawning hole in the Budget. The Democrats launched a lot of huge and pompous projects being aware that the Budget had no means for that. We will shortly publish full information about this", said Maia Sandu.