VENICE COMMISSION SAYS ALL MOLDOVAN CONSTITUTIONAL COURT JUDGES SHOULD RESIGN – MoJ STATE SECRETARY
21 june, 2019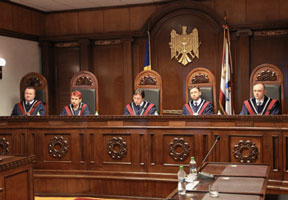 The Venice Commission of the Council of Europe believes that all Members of the Moldovan Constitutional Court should tender resignation, says Nicolae Esanu, the State Secretary of the Moldovan Ministry of Justice, who represents the Moldovan Government at the Venice Commission sitting.

"Absolutely all people I have communicated here in Venice maintain that the public trust in the Constitutional Court cannot be restored without a removal of the incumbent Judges, who have completely compromised this important-most institution. And my interlocutors were surprised to hear my opinion that the CC Judges will hardly tender resignation on their own accord", Esanu wrote on his Facebook page.

He says he was really surprised to learn that Constitutional Court Chairman Mihai Poalelungi stepped down on Thursday.

"That news was welcomed by my interlocutors, who hope that the CC Chairman's example will be followed by the rest Court Judges, and who are somewhat surprised that none of the judges has expressed his or her individual opinion on the issue", said the MoJ State Secretary.

On the Sunday of June 9, when the Constitutional Court was making its judgments on canceling the new Parliament's decisions, Nicolae Esanu subjected the CC Judges' rulings to strong criticism.

"I hope that somebody hacked the Constitutional Court's page on the Internet and that those were somebody else's decisions instead of the Court's. I refuse to believe in a possibility that the CC Judges sit and watch a Parliament session on the television and are changing parliamentary decisions on the move", Esanu wrote in the social networks then.

On June 10, Secretary General of the Council of Europe Thorbjorn Jagland voiced a "serious concern" and offered an opinion that the latest Constitutional Court decisions were hard to comprehend and that they had no substantiation in the light of the Moldovan Constitution or the international law. He requested the Venice Commission of the Council of Europe to give its assessment of the CC decisions, and it is expected to be presented on June 21. The Constitutional Court readily cancelled all its 6 decisions concerned already on June 15, though each of them was traditionally ended with the formulation that Constitutional Court decisions "are final and without appeal".