MINISTER POPESCU SAYS THAT MOLDOVAN EMBASSY TO ISRAEL IS REMAINING IN TEL AVIV
21 june, 2019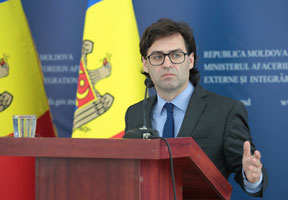 Minister of Foreign Affairs and European Integration Nicolae Popescu stated at the press briefing on Friday that the Embassy of the Republic of Moldova to the State of Israel is remaining in Tel Aviv. That was how Popescu reacted to the announcement made last week by the previous Government of Prime Minister Pavel Filip to shift the Embassy over to Jerusalem.

Popescu stated that it would be not correct to say that the decision was passed by the Government of Moldova because by that moment the Filip Government had already ceased to exist as such. And there already was another government – of Premier Maia Sandu.

In his words, American partners also ignored that intention announced by the Filip Cabinet.

Concerning the question of selling the land plot of the former National Stadium in Chisinau to the American side for building a new U.S. embassy, Popescu said that it is first necessary to settle very carefully some technical questions so that the construction could start possibly sooner.

Commenting on the previous government's announced plans to open Moldovan embassies in India, Argentina, Ghana and Ireland, Nicolae Popescu said he would analyze all the decisions made previously and would present more detailed information on them later. He stressed, however, that Moldova needs to have "a powerful, active and reliable diplomatic network in the world".

The minister said he will visit Lisbon next week to attend an international forum, on whose sidelines he will hold meetings with his Portugal colleague and with the OSCE Chairperson-in-Office, Slovakia's Minister for Foreign and European Affairs Miroslav Lajcak.

"We are also preparing for other foreign visits. I am intending to visit all Moldova's partners – Bucharest, Kiev, Berlin, Moscow and Brussels. I am ready. But, all the same, Bucharest is remaining an absolutely priority for me", Nicolae Popescu stated, answering a Romanian journalist's question.