PLAHOTNIUC STEPS DOWN AS DP LEADER, BUT REMAINS MEMBER OF PARLIAMENT
24 june, 2019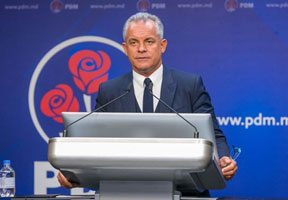 Vlad Plahotniuc, who fled from Moldova last week, has announced his resignation as Chairman of the Democratic Party of Moldova, but confirmed his remaining a Member of the Moldovan Parliament.

Plahotniuc wrote on his Facebook page on Monday that the Democratic Party "has made a peaceful transfer of power – without subjecting citizens to risks".

"Although we disagreed over how the new governing coalition was formed, we decided that political differences should not be overcome through destabilizing the country. Nevertheless, despite our constructive approach, the Democratic Party is being subjected to a tremendous pressure because somebody has simply confused political goals. They [new authorities] want to struggle against me but are struggling against the Democratic Party, which cannot indeed bring good to the DP or to the pro-European parties in the governing alliance", wrote Plahotniuc.

He reminded that the pro-European parties in the ACUM bloc are refusing to enter into dialog with the Democratic Party "because they don't wish to discuss anything with its Chairman who is a problem for them".

"I want to remove this impediment and take a decision that will show that the Democratic Party does not depend only on one person i.e. on me. Today I have resigned as DP Chairman and recommended my party colleagues to convoke a party congress possibly soon in order to elect a new organization leadership and adopt a new DP political program. To exclude all possible speculations, I hereby state that at the congress I shall not seek whatever posts in the party", wrote its former leader.

Plahotniuc believes the Democratic Party needs a new political project that would meet its work plans in the opposition.

In his words, he is not resigning as a parliament deputy because such a decision must be discussed with voters from [his native] Nisporeni single-member constituency, where he was elected. Plahotniuc assured that he does not need to have a parliamentary mandate only for the sake of his parliamentary immunity.

As was already reported by Infotag, on June 14 evening, minutes after the Democratic Party leadership had announced the organization's becoming an opposition force, Vlad Plahotniuc and his nearest surrounding left Moldova. Last week, former Speaker of Parliament Andrian Candu stated he had met with Vlad Plahotniuc in London, "where Plahotniuc is solving the problems of ensuring his and his family's security".

On June 17, Plahotniuc wrote on his Facebook page: "I am remaining on the barricades and will soon return to Moldova".