MOLDOVA WILL BE FULFILLING ALL ITS EARLIER-SIGNED AGREEMENTS - PRESIDENT DODON
25 june, 2019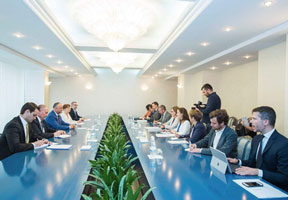 Moldova President Igor Dodon has assured European Parliament deputies that the new Moldovan leadership will be fulfilling all the country's international agreements signed before, the head of state wrote on his Facebook page describing the meeting he had in Chisinau on Monday with a European Parliament delegation led by Deputy Speaker Heidi Hautala (Finland), a Member of the Group of the Greens/European Free Alliance. The meeting was attended by Ambassador Peter Michalko, the Head of the European Union Delegation to the Republic of Moldova.

The President thanked the European partners for their recognition of the new legitimate power in Moldova, for their continuous and active political support of the republic in its realization of earlier-signed agreements and implementation of reforms, as well as "for an unprecedented financial help to Moldova".

"I assured the European Parliament Deputies that the Moldovan Presidential Administration, in a close interaction with the Government and parliamentary majority, will preserve adherence to the documents signed with Western partners, first and foremost with the European Union. All these agreements shall remain in force and shall be realized", wrote Igor Dodon.

He outlined the objective need for holding real and not imaginary reforms because an overwhelming majority of the Moldovan population, supporting the new authorities, is expecting changes for the better from them.