PARLIAMENT WILL TAKE MEASURES IF SCM DOES NOT START CLEANSING JUDICIARY - PREMIER
25 june, 2019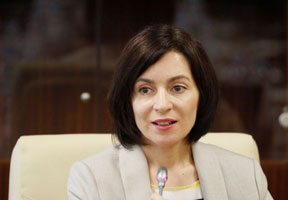 Prime Minister Maia Sandu came to the Superior Council of Magistrates sitting on Tuesday morning and said that the SCM must immediately start cleansing the justice system from judges who discredit it.
"If the situation does not start changing within the next two weeks, the Parliament will take measures to start this process via changing the legislation", Sandu said.

She stressed the need of ensuring transparency of court hearings, despite the bureaucratization and various policies on protecting personal data, implemented for restricting the access to information.

"Everyone who took illegal decisions must be punished and wiped away from the system, while honest people must be promoted. You are obliged to start a real cleansing in the ranks of judges, otherwise we cannot work together. You must immediately take measures against illegal decisions everyone knows about. You know that lack of progress in the judiciary was the reason for canceling the financial assistance for reforming this sector", Sandu said.

According to her, so far the SCM was not engaged in its direct duties, while the political intervention and any kind of pressure cannot remain excuses for preserving the devastation in the system, as the new political elite will not intervene in justice reforming.

"Illegal decisions were taken, which made us notorious in the entire world. Among them there are canceling of Chisinau mayor election results. What happened after that? How did you react? With all respect, if things do not start changing in the nearest weeks, we will have to seek solutions in the Parliament and the Government. We cannot tolerate unserious attitude to the law and citizens", the Premier warned.

She addressed to ordinary judges with a call to perform their duties fairly, while in case they face pressure – to directly address for help to the Government.

"You will receive all my support in order to be working according to the law and adopt illegal decisions", Sandu said.