MOLDOVA AND UKRAINE SUPPORT EACH OTHER'S SOVEREIGNTY AND TERRITORIAL INTEGRITY – PRESIDENT ZELENSKII
12 july, 2019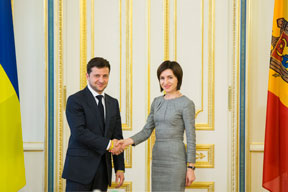 Ukraine and Moldova support the sovereignty and territorial integrity of each other, President of Ukraine Vladimir Zelenskii stated in Kiev following his meeting with Moldovan Prime Minister Maya Sandu on Thursday.

"The Governments and Parliaments of Moldova have always supported Ukraine's sovereignty and territorial integrity. I hope the new Government of Moldova will also continue this line. From my part, I assure that Ukraine supports Moldova's sovereignty and territorial integrity, and will be further taking an active part in the Transnistrian conflict settlement process", stated Vladimir Zelenskii.

The President underlined that Ukraine and Moldova are linked by their common desire to have no Russian troops in their territories.

"Also, we shall not permit to impose upon us whatever plans of the so-called federalization. On matters of sovereignty and security in region, our two countries stand on same positions", stressed the Ukrainian President.

He said that today the parties discussed questions of economic cooperation. In his words, in 2018 the trade turnover between the two countries grew 11% reaching a billion US dollars. He expressed hope that in 2019 this figure should go up.

Zelenskii and Sandu discussed also cooperation in the energy sphere and unification of the two energy systems with the European system.

The President spoke out for providing the citizens of the two countries with a possibility to cross the common border with only internal domestic passports on hands. He stressed the need for defending the Ukrainian national minority in Moldova and for preserving Ukrainian-language schools.

Vladimir Zelenskii thanked Maia Sandu for her coming to Kiev with one of her first foreign visits upon her appointment to the high post.