​LOCAL ELECTION TO BECOME A TEST FOR GOVERNING COALITION – PREMIER SANDU
25 july, 2019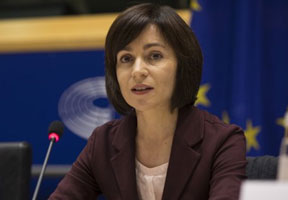 The approaching ordinary local elections [October 20] should become a real test for the governing coalition's strength, Moldovan Prime Minister Maya Sandu stated on Wednesday in Brussels in her address to the European Parliament.
She stressed that the new Moldovan leadership will do all in their powers to ensure a really fair and free election.

"The main election rivalry will be between the country's two leading political forces [the Party of Socialists and the political bloc ACUM, currently forming the two components of the parliamentary coalition], so we need to conduct an election campaign in a manner civilized to a maximum-possible extent to avoid any possible spoilage of our partnership relationship in the parliamentary majority", said the Prime Minister, who heads one of the ACUM bloc's components – the Party of Action and Solidarity (PAS).

Answering the European parliamentarians' questions about the coalition relationship with the Party of Socialists [PSRM] renowned for its pro-Russia vector, Maia Sandu said that all provisions of the partnership agreement concluded with the PSRM are known to the public and that the partners have no secret agendas.

"The basis for the coalition's policy is the EU-Moldova Association Agreement, and the Socialists demonstrate their adherence to the document. We are aware of the PSRM's close ties with the Kremlin, and we, too, want to restore economic cooperation with Russia, for instance we want to conclude a new contract for the supply of Russian natural gas to Moldova. But it is essential that Moscow must respect Moldova's national interests", stressed Maia Sandu.

In her words, it is difficult to predict how long the incumbent governing coalition will last, "but citizens who have voted for the ACUM and for the Party of Socialists want our coalition to remain for a period until democratic processes in Moldova become really irreversible. The people's opinions are very important to us".

Premier Sandu also said that the judiciary reform and struggle against corruption are among the Government's top priorities. She does not believe that the judiciary system cannot be reformed from the inside due to the presence of a strong corrupt segment in it.

"We reveal and ruin new illegal smuggling and other schemes practically every day, but the Prosecution Service is still remaining practically inoperable. So, we shall be further working to appoint a new Prosecutor General. We realize that such appointment will not resolve all problems in the prosecution system, but the new Prosecutor can at least launch the reform and initiate litigations on the most scandalous violations", said the Prime Minister.