SOCIALISTS INSISTING ON IMMEDIATE SIGNING AGREEMENT WITH ACUM
08 august, 2019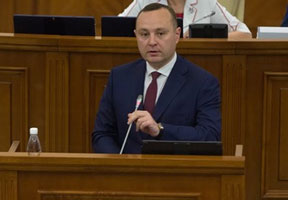 The Party of Socialists is insisting on an immediate signing, next week at the latest, of a political agreement with ACUM bloc in order to prescribe distinctly the tasks and objectives of the country's domestic and foreign policy and to exclude in the future situations creating big risks for country governance, MP Vlad Batrincea, the PSRM Executive Secretary and parliamentary Socialist faction chairman, wrote on his Facebook page.
Batrincea expressed concern that despite the accords reached earlier between the component forces of the governing coalition, PSRM and ACUM, and contrary to the spirit of cooperation that has formed in dialog between the President, Parliament Chairperson and Prime Minister, statements of geopolitical character are being heard increasingly more often lately that are continuing the speculative practice of dividing the Moldovan society.

"We are expressing our surprise and regret that individual parliamentarians and ministers, representing ACUM, make statements of geopolitical and ideological character that may seriously undermine our joint efforts to consolidate the society and promote a well-balanced foreign policy of our State. Unpardonable verbal attacks against the Republic of Moldova's strategic partners are only nullifying our efforts to release the country from the oligarchs' paws and are devaluating the support we receive from our foreign partners from the West and the East", believes the Socialist.

Vlad Batrincea wrote that the PSRM faction, despite some internal differences on many topics indicated by the Government and ACUM partners, "is remaining monolith and supports the parliamentary majority by the votes of all its 35 deputies".

As was already reported by Infotag, the first interim agreement was concluded between the PSRM and ACUM on June 8, when they agreed to unite efforts for de-oligarchization of Moldova, and formed a parliamentary majority coalition.