NEW AGREEMENT WITH PSRM WILL BE CONCLUDED AFTER REACHING CONSENSUS ON JUDICIARY REFORM – ACUM
15 august, 2019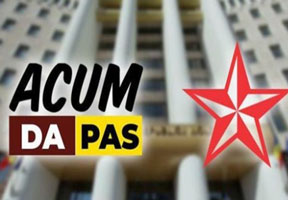 Leaders of the ACUM bloc Prime Minister Maia Sandu and Deputy Premier, Minister of the Interior Andrei Nastase stated that the new agreement with the Party of Socialists (PSRM) will be concluded immediately after the sides achieve consensus in the field of justice reform.

At a briefing after Government sitting on Thursday Sandu said that the new agreement must take into account all the nuances of the process of reforms, including the most important of it – the reform of judiciary.

She said that the controversies between the political formations are mostly due to bloc's proposals on reforming the Superior Court of Justice, namely the process of appointing judges with participation of foreign experts. Also, she said that development partners must assess candidates for leadership of the Prosecutor General's Office and other judiciary structures.

"It is in these directions that we must find common ground. I hope this will happen in the nearest days and we will sign the agreement", Sandu said.

Nastase stressed that the ACUM is ready to sign the agreement if Socialists undertook the same commitments as the bloc representatives in relation to the reform of justice and rehabilitation of the law-governed state.

"This document must imply the continuation of implementing the agenda of de-oligarchization and liberation of the state. The ACUM bloc has no divergences on this issue. Also, we have to undertake common liabilities to exclude political tourism and ensure the conducting of free and fair local elections", he said.