PARLIAMENT ADOPTS LAW ON RETURNING TO PROPORTIONAL VOTING SYSTEM
15 august, 2019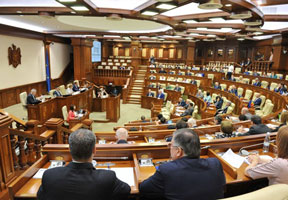 At the Thursday's extraordinary sitting, the Parliament adopted the law on returning to the proportional system of elections, initiated by the parliamentary majority after the change of power, in the final reading.

Besides the returning to the previous voting system, the law implies a number of other changes for improving proportional system that existed before 2017.

In particular, articles that concern mandatory provision of integrity certificate will be excluded from the Election Code. Instead, candidacy-seekers will sign statement about absence of conflict of interest or bans on holding public posts under the personal responsibility. Also, the provisions on canceling the Silence Day before the Election Day and the ban on campaigning on the Election Day, adopted in November 2018, will be cancelled.

New provisions of the Election Code imply that Moldovan citizens who live abroad can vote on expired passports, as well as on valid ID cards and military card. This concerns both parliamentary and presidential elections, as well as republican referendums.

The threshold for parties to enter the Parliament will be lowered to 5% from 6%, while for electoral blocs – to 7% from 8%.

Also, special provision on gender equality was included in the Election Code. According to it, all parties will be obliged to include at least 4 women in each dozen of candidates for MPs.

At the same time, local elections on October 20 will not take into account the introduced changes.