GOVERNMENT WANTS RAPID CHANGES AS WELL, BUT REFORMS IS A DIFFICULT PROCESS – PREMIER
16 august, 2019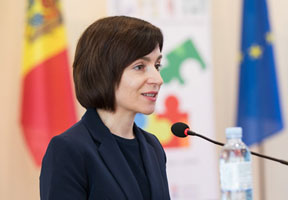 The Government knows that the society wants rapid changes and the country leadership wants the same, but it must be understood that reforms are a difficult process, said Prime Minister Maia Sandu.

At the Friday's ceremony of opening the Days of Diaspora in Chisinau, she said that each reform is complex, but even understanding the citizens' expectations, the country leadership has no right to resort to populist practices.

"We understand the disappointment that appeared in the society after the infectious regime's rule, but no matter how hard it will further be, we will achieve better life for all citizens. Also, it is necessary to understand that reforms and changes depend on all the citizens, that critical mass that exists in the society and demands changes", Sandu said.

According to her, in the process of reforms, Moldova hopes for support from diaspora representatives, which always demonstrated high level of civil activity and the desire to influence the building of country's future.

"We value your support, understand that most of you left Moldova not by your own will, but due to corrupt politicians, who deprived citizens of any chance to take care of themselves and their relatives. However, the diaspora already helped in fighting against the oligarchic regime, and we hope for its help in the process of reforms as well", she said.

According to her, the Government intends to act in relation to diaspora on three priority directions: ensuring the right to vote for each of its representatives, cooperation and experience exchange, returning of citizens home.

"The Government understands the burden of the undertaken liabilities and is ready to accept constructive criticism. However, it must be understood that we have good intentions, we have much fought to get a chance to build a democratic society. This is a possibility for all of us and we must take advantage of it", the premier said.