VLADIMIR TURCAN ELECTED AS CC CHAIRMAN
19 august, 2019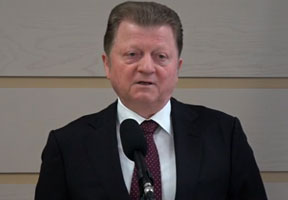 Majority of new Moldovan Constitutional Court members voted for Vladimir Turcan as Chairman of the Court on Monday.

On Friday, the Parliament appointed him as member of the CC and on the same day he and other 5 judges were sworn in before the Parliament, the President and the Superior Council of Magistracy (SCM).

Vladimir Turcan will make 65 in autumn. Since 2014 he is MP of the Party of Socialists (PSRM). Police major general, he was Minister of the Interior in 1999-2001. Since 2002 through 2005 he served as Moldovan Ambassador to Russia, in 2005 and 2009 he was elected to the Parliament on Communist Party ticket. In 2010 he left the Communist Party and joined the party "United Moldova", soon becoming its head.