PRESIDENT DODON CALLS ON POLITICIANS TO STAY ASIDE FROM CC INTERNAL PROCESSES
20 august, 2019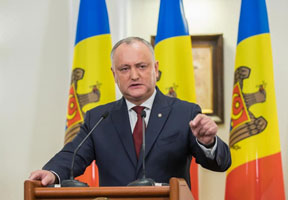 President Igor Dodon called on politicians not to involve in internal processes of the Constitutional Court, reacting to critical comments of politicians, which appeared after former Socialist MP Vladimir Turcan was elected as Chairman of the CC.

"As country president I took into account the CC opinion and the professional skills of the new Court Chairman Vladimir Turcan and I hope for a more correct activity of the institution. I suppose that the most correct and balanced position of politicians must resume to neutral and unbiased attitude to Court's internal processes, without political or personal preferences, expressed publicly", Dodon said.

According to him, the decisions and choices of Constitutional Court judges are out of spheres of influence and any political intervention.

"Only in such a way we can contribute to the real reform of justice, when judges are politically and professionally protected", the President said.

Before, Prime Minister Maia Sandu expressed disagreement with the fact that ex-MP of PSRM became new Chairman of the CC. She wrote in social networks that there are grounded doubts about the procedure of voting, which took place on Monday between members of the court. Other politicians – from the ACUM bloc and the oppositional Democratic Party – also made critical comments.