SSC TO DISCUSS RETURNING OF CHISINAU AIRPORT UNDER STATE AUTHORITY
21 august, 2019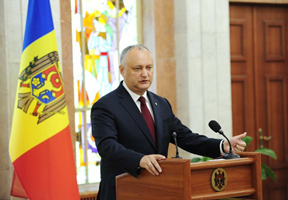 President Igor Dodon convenes the Supreme Security Council to discuss the possibility of returning the Chisinau airport under the state administration. He wrote about this on his Facebook page on Wednesday.

"Due to the announced transaction on selling the Avia Invest company, which took possession of the Chisinau International Airport on the basis of criminal decision of previous authorities, I decided to urgently convene a sitting of the Supreme Security Council. We will discuss risks for the state connected with this transaction and the solutions on returning the airport under state administration", Dodon said.

He asked the Ministry of Economy and Infrastructure and all state bodies to prepare information about this transaction, by means of which a company, guilty of lawlessness in the airport, including smuggling of goods and running of criminals, was sold, while the right to concession for the remaining 43 years was transferred to other company.

"Law enforcement agencies will present information about investigating the circumstances of transferring the airport into concession to a group of fraudsters, while the Ministry of Economy and Infrastructure will inform the SSC and the community how the Avia Invest abided by contract liabilities, which, including the investment program, were conducted at the expense of the money, levied from passengers, among others,", Dodon stressed.

As Infotag has already reported, the NR Investments Ltd company, which belongs to the family of Rothschilds, bought 95% shares of the Avia Invest company, which in 2013 took the Chisinau airport into concession for 49 years. Since then, the company changed its owners several times. The new Government and the Parliament started the investigation of the concession transaction. They do not exclude that the transaction, concluded with numerous violations, may be cancelled.