PSRM PRESENTS CANDIDATES AT PARLIAMENTARY ELECTIONS IN SEVERAL CONSTITUENCIES
22 august, 2019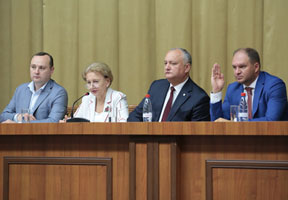 The Party of Socialists (PSRM) presented its candidates on new parliamentary elections which will be held on October 20 in four single-member constituencies.

PSRM Chairman Zinaida Greceanii said after the Wednesday's sitting of the party Republican Council that in Nisporeni constituency the candidate for Parliament will be Pavel Artamonov - head of the territorial party organization. Municipal councilor Svetlana Popa will fight for votes in the constituency 33 (Chisinau suburbs), while Vitalie Iftodi - in the Transnistrian region.

Greceanii said that the party decided not to nominate a candidate for the single-member constituency "Western Europe" as there is no sense to scatter forces.

"At the sitting, we discussed organizational issues of PSRM's participation in local elections", she said, not disclosing the name of party candidate for Chisinau mayor, stressing that public statements will be made after the Council sitting on August 30, as the legislation requires. Meanwhile, she added that there are no discrepancies in relation to the candidate in Chisinau and it is absolutely clear who is the best for this role, meaning Ion Ceban.

President Igor Dodon answered more directly that the political decision has already been taken and it is Ion Ceban who will run for Chisinau mayor, though this issue was not discussed at the sitting. Dodon also said that the party considered the election strategy and entered the election campaign well prepared and will achieve a decent result at elections.