DELAYS IN SIGNING AGREEMENT WITH PSRM ARE DUE TO JUDICIARY REFORM AND GEOPOLITICS - DA DEPUTY CHAIRMAN
22 august, 2019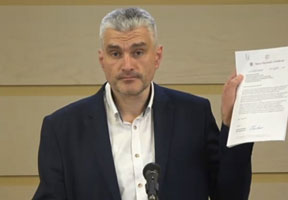 Deputy Speaker of the Parliament, Deputy Chairman of the "Demnitate si Adevar" [DA, "Dignity and Justice"] Party Alexander Slusari said at the Thursday's briefing that the delay in signing the agreement between the ACUM and the Party of Socialists is connected with two issues - the reform of justice system and the geopolitics.
He said that the reform of judiciary is the paramount priority in the current process of changes.

"These changes must be implemented within several months, but not four years. Otherwise the judiciary we inherited from Plahotniuc, in which he invested great funds, will retain its force and will keep influencing political processes in Moldova. Now, the greatest question occurs: is the PSRM ready to support these reforms?", Slusari asked.

The second object of discrepancies between the parties is the geopolitical issue.

"This concerns, among others, the visit of Sergey Shoigu [Russian Minister of Defense], which is a mistake, if you ask me. A mistake, which will not contribute to strengthening of understanding in the ruling majority", the deputy speaker said.

Also, he touched upon the election of Chairman of the Constitutional Court.

"I believe that in this situation the best variant is to revise the decision. I agree with MP Lilian Carp that Vladimir Turcan's resignation from post will help easing the situation", he said.

According to him, the ACUM bloc position has all the time been connected with the de-politicization of state institutions.

"Let us remember how many discussions there were about the election of Ruslan Flocea [as head of the National Anti-Corruption Center], who in my opinion is a competent person, but here the political factor also played its role. The situation with the CC is similar: it is no good when a political representative come to head a court", Slusari said.

However, he stressed that now it is necessary to focus on the reform of justice.

"It is necessary to adhere to the undertaken liabilities on renouncing to raise geopolitical issues, which divide people. I understand that we are in the run-up to local elections, but we must be maximally responsible", the politician said.