MOLDOVA'S ONLY DEVELOPMENT WAY IS EUROPEAN INTEGRATION – PREMIER SANDU
23 august, 2019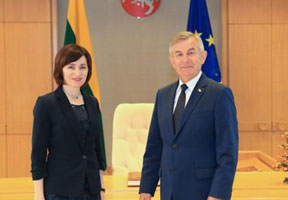 Moldova has only one way of development – the European integration, stated Prime Minister Maia Sandu within the framework of her two-day official visit to Vilnius.

According to Government press service, she stated on Thursday that the only solution on developing the Republic of Moldova is the integration in the European Union for ensuring democracy, respecting human rights and ensuring high living standards for Moldovan citizens, as well as for conducting reforms in key fields, such as the sector of justice and corruption combating.

In Vilnius Sandu met with President of the Lithuanian Republic Gitanas Nauseda to discuss perspectives of Moldovan-Lithuanian all-sided cooperation, development of internal policy in both countries, implementation of reforms in Moldova, as well as the regional security. She thanked Lithuania for support to Moldova both in European integration processes and within the Eastern Partnership.

Also, the Moldovan Premier met with Lithuanian Minister of Foreign Affairs Linas Linkevicius.

"Officials considered the possibility of resuming the activity of Moldova-Lithuania Joint Commission for European Integration, within which the issues that concern both the European integration and the economic cooperation will be discussed", the press release says.

The interlocutors expressed interest in strengthening the Moldovan-Lithuanian cooperation in the field of mutual promotion and protection of investments, in combating crime, in standardization, as well as combating of hybrid threats, for which it was proposed to organize a forum of "Eastern Partnership" dedicated to cyber security this autumn.