GOVERNMENT RENOUNCES ANY PRACTICES THAT MAY DIVIDE SOCIETY – PREMIER SANDU
23 august, 2019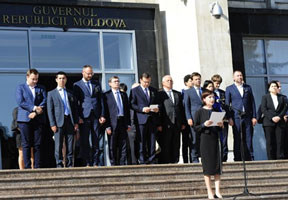 Prime Minister Maia Sandu took the floor at the ceremony, dedicated to the Day of remembrance for victims of totalitarian and authoritarian regimes on Friday. She said that her Government renounces any practices directed to division of the society and will contribute to raising of trust and understanding between citizens.

The premier stressed that she condemns any manifestation of totalitarianism, be it Nazism, Stalinism, any other Communist and Fascist regimes.

"All such regimes deserve to be equally regarded as inhuman and criminal. Almost each Moldovan family somehow suffered from actions of totalitarian regimes in the past – concentration camps, massive hunger, deportations. Human life meant nothing, people were just expendables used for achieving goals of fanatical dictators. To forget all these means to risk recurrence of this in future", the Premier said.

She expressed hope that this day will put a start to unification of all citizens on the basis of principles of compassion and understanding.

"We must learn not to divide people on the grounds of language, faith, views. We want that Moldovan citizens to live in peace and harmony, to be solidary with each other, regardless of ethnic or political affiliation, to live in a democratic state, which protects them and ensures confidence in the future", Sandu said.

According to her, each person has right to life, honest work, self-expression.

"The Government I am heading will always adhere to the principles of respect to each citizen, the law-governed state, equality, fundamental freedoms. We will build our future on the basis of tolerance, reconciliation and truth", the premier said.

During the ceremony, the Moldovan flag in front of the Government building was lowered, the one-minute silence was announced, while after public statements, the premier, Deputy Premier Andrei Nastase and representatives of the "Demnitate si Adevar" [DA, "Dignity and Justice"] Party and the Party of Action and Solidarity (PAS) factions distributed black ribbons to the gathered citizens in memory of totalitarianism victims.