USA NATIONAL SECURITY ADVISOR TO VISIT MOLDOVA NEXT WEEK
23 august, 2019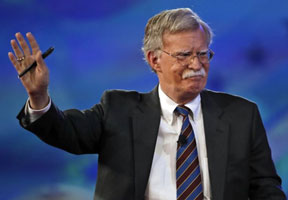 Prime Minister Maia Sandu invited US National Security Advisor John Bolton to visit Moldova on August 29.
The premier wrote on her Facebook page that the very fact of the visit of such a high representative of the US is a signal of serious support to the Republic of Moldova.

"For many years Moldova was isolated from the rest of the world, doors in Washington, Brussels, Berlin, other capital cities were closing, while the republic was facing the condition of oligarchic self-isolation. However, today the situation changed. The most important partners demonstrate interest to Moldova, we see openness, support, receive proposals for cooperation", she wrote.

Sandu maintains this is an unprecedented development of relations with the US, expressed confidence that this partnership will allow Moldova to follow the path of democracy and progress.

Premier also said that immediately after the visit of Bolton to Chisinau she will go to the US, heading a governmental delegation. The visit is planned for August 31-September 4.

"Our priority is the deepening of strategic dialog with the US, cooperation in key directions, attraction of investments and creation of jobs for our citizens in home country", Sandu said.