MAIA SANDU WILL MEET WITH MIKE POMPEO ON WEDNESDAY
17 september, 2019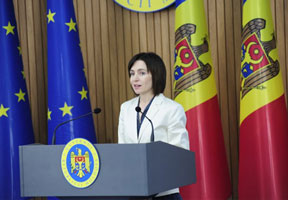 Prime Minister Maya Sandu will pay her first official visit to the United States at the head of a Moldovan governmental delegation on September 18-19.
On Wednesday, Premier Sandu will hold a meeting with U.S. Secretary of State Mike Pompeo in Washington DC "to discuss consolidation of strategic dialog between the Republic of Moldova and the United States", reported the governmental press service.

The visit agenda includes a number of meetings with U.S. high-ranked officials and with the representatives of American business circles, as well as with Moldova citizens living in Washington.

The Moldovan delegation includes Moldova's First Deputy Premier, Minister of the Interior Andrei Nastase, Minister of Foreign Affairs and European Integration Nicolae Popescu, Minister of Finance Natalia Gavrilita, Prime Ministerial Advisers Vladislav Culminschi and Victoria Rosa.

The Moldovan governmental delegation's visit was initially scheduled for late August, but was adjourned on the American side's request.