MP IURIE RENITA MAY DIVORCE ACUM IF MOLDOVA'S FOREIGN POLICY IS NOT CHANGED
01 octomber, 2019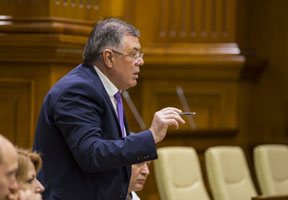 MP Iurie Renita, Chairman of the parliamentary Standing Committee for Foreign Policy and European Integration, stated at a news conference on Tuesday that he may well quit the political bloc ACUM if the Republic of Moldova's foreign policy is not thoroughly revised.

Renita stressed he is not going to split up ACUM, but with an account of the developments taking place in Moldova's external policy field since the appointment of a new Government last June, he admits a possible change in his status. He will take a final decision after October 20.

"Many things are just unacceptable for me. I've come to parliament and joined ACUM not for this. I cannot remain indifferent when strange things are happening, in particular in our foreign policy. I share the apprehensions and the many things pointed out by colleagues Octavian Ticu [already left ACUM] and Lilian Carp [considering yet]", said Renita.

The deputy explained that he is discounted with the speech President Igor Dodon made at the United Nations General Assembly Session in New York last week, "to whom Prime Minister Maya Sandu had permitted to address the global forum under the pretext of her being too busy with her daily work agenda".

"May be we should return to the practice of suspending presidential powers [by Constitutional Court's decision, for 10-15 minutes, to sign necessary papers]. We have all conditions for this presently. My words are a political signal for President Dodon, who has monopolized and grabbed the prerogative that does not belong to him. Yes we must have an inter-institutional cooperation, but each responsible official, acting on one's state post, must be guided by the law", believes the ACUM lawmaker.

Iurie Renita said that a considerable part of his claims is related to the work of Moldova's Minister of Foreign Affairs and European Integration Nicolae Popescu, "who made a serious blunder by calling the Transnistrian conflict 'a civil war', and did not correct Russian Minister of Foreign Affairs Sergey Lavrov, when Lavrov stated at their recent joint news conference that the Russian language and the Russia-language media are allegedly infringed on in Moldova".

"All this is casting doubt on the professional qualities of diplomat Popescu. It cannot be completely ruled out that standing behind such statements and such kind of thoughts are certain advisers promoting other interests differing from our national ones. Besides this, many of Popescu's statements are similar with Dodon's sayings, so it is not at all accidental that Dodon reacted so joyfully to Popescu's irresponsible statement concerning a civil war in Transnistria", stated Iurie Renita.