RM AND CoE REPRESENTATIVES DISCUSS PLAN OF JOINT ACTIONS FOR NEAREST YEAR
15 octomber, 2019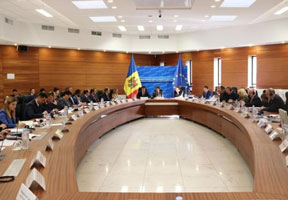 The priorities and measures, stipulated by the Moldova-CoE Action Plan for 2019-2020 were discussed in detail on Friday at an enlarged meeting held in the Moldovan Ministry of Foreign Affairs and European Integration.
The discussion was attended by Minister Nicolae Popescu, Director of the Council of Europe Office of the Directorate General of Programs (ODGP) Verena Taylor, Head of the Council of Europe Moldova Country Office William Massolin, Deputy Speaker of the Moldovan Parliament Mihai Popsoi, high-ranked officials from the Ministry of Justice, Ministry of the Interior and the National Anti-Corruption Center (NACC).

The main objective of such meetings that have already become traditional is to assess the implementation of measures stipulated within the framework of cooperation between the Council of Europe and the Republic of Moldova in the general spectrum of joint action plans. They presuppose: support for reforms in priority spheres, projects on struggle against corruption and against money laundering, raising of the judiciary system's independence and efficiency; measures for consolidation of trust between both Dniester River banks; protection of children from exploitation and violence, strengthening of democratic mechanisms and of the supremacy of law principle, and human rights observance.

Nicolae Popescu highlighted the need for a maximum mobilization of domestic and external resources for realization of the reform process in Moldova that must be felt by citizens.

The Council of Europe – Republic of Moldova Action Plan for 2017-2020 was approved on February 1, 2017, and its realization started in May of that year. The aggregate budget of the projects included into this agenda is assessed at approximately 18 million euros.