​EU DELEGATION LAUNCHES INFORMATIONAL PLATFORM ABOUT PROJECTS IMPLEMENTED IN MOLDOVA
16 octomber, 2019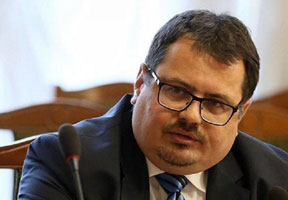 The platform EU4Moldova.md, which contains information about projects, implemented and financed by the EU in the Republic of Moldova, was launched in Chisinau on Tuesday.
At the presentation, Ambassador Peter Michalko, Head of the European Union Delegation to Moldova said that over the entire time of cooperation, over 1 thousand projects were implemented in the republic and directly affected around 500 thousand citizens and indirectly – almost the entire country's population.

According to him, the informational platform is a visualization of the fact that demonstrates that the European Union support covers all the localities and citizens of the republic.

"Projects in the field of economy, small and medium enterprises (SMEs) were implemented, due to which around 15 jobs were created. We provided tangible help to enterprises, local public organizations, as well as opened for the youth the opportunities for establishing contacts and connections with counterparts from Europe", Michalko said.

He added that the EU provided to nongovernmental organization's 8 million euros as support, because their activity is very important for the country in the most difficult times, as well as for developing state policies in all fields.

"Good governance in the state is one of our priorities, including within the Eastern Partnership. We provided help in consolidating state institutions. Another important sphere is justice, in which things have not always been well. However, efforts must be continued to implement a real reform of the judiciary, due to which citizens can live in a country where there is justice, everyone is equal before the law while the combating of corruption is a priority", the ambassador said.

Minister of Foreign Affairs and European Integration Nicolae Popescu maintains Moldova has to set a strategic goal to transit from consuming the external financial assistance to providing of the such.

"We, as a society, must not eternally be in a situation when we ask for help. Out partners in foreign capitals ask about the help they can provide to us. But I do not feel well in such a situation and we, as a society, must not regard as normal the fact that we permanently are begging for help. Our goal is to use external assistance, but also ask ourselves how we can contribute to achievement of EU priorities", he said.

According to the minister, the stage of consuming external assistance must be temporary for Moldova, after which the time will come to provide assistance to others, which sounds not so absurdly as it might seem at the first glance, because Romania, Poland and Slovakia were receiving assistance from European funds, while now they help Moldova.

Popescu maintains that for achieving this goal it is necessary to implement the reform of justice, to combat corruption and to attract investments, because this contributes to creation of jobs, raising of revenues to the budget, which must be directed to independent development of social and economic infrastructure, while after that – for supporting other countries.