​MAYORS OF MANY LARGER LOCALITIES ELECTED ALREADY IN FIRST ROUND
21 octomber, 2019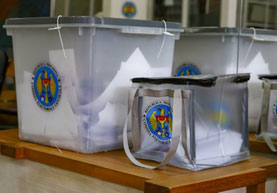 The Central Election Commission (CEC) preliminary data demonstrate that in many large localities the mayors were elected already in the first round of voting, without the need to conduct the second round.
According to them, incumbent mayor of Comrat Sergey Anastasov scored 94.58% (9671 votes). He was candidate from the Party of Socialists, though in 2015 he won elections representing the Our Party (OP, Partidul Nostru). The incumbent mayor of Cahul Nicolai Dandis also preserved his post, getting 81.95% votes. Drochia mayor Nina Cereteu of the OP scored 63.83% votes, also remaining in her post.

Candidate Pavel Verejanu won Orhei gubernatorial election, receiving 80% of votes in the first round.

Partidul Nostru [Our Party] leader Renato Usatii again won in Balti in the first round. He received over 63% votes. This is less than in 2015, when he got 75%. This time PSRM was an active opponent against Usatii, but its candidate Alexander Nesterovschi got slightly more than 15% of votes.