PRELIMINARILY RESULTS OF LOCAL ELECTIONS IN MOLDOVA: 518 MAYORS ELECTED IN FIRST ROUND
22 octomber, 2019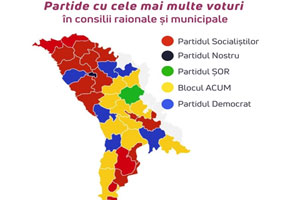 At the ordinary local elections held in Moldova last Sunday, 518 mayors of various-level populated areas (cities, towns, villages, communes) were elected already in the first round, of whom 191 mayors represent the Democratic Party, 124 – the Party of Socialists and 82 – the political bloc ACUM, as per the preliminary results made public by the Central Election Commission (CEC) on Monday.

Twenty-six mayors were elected from the Liberal Democratic Party, 13 – from the Ilan Shor Party, 10 – from Our Party, 4 – from the Communist Party, 2 – from the National Unity Party (PUN), 1 – from the Romanian People's Party and 1 from the Liberal Party.

Independent candidates have become mayors in 64 populated areas, and in 20 localities there was only one candidate, so victories there were marked with a 100% triumph.

In the rest 380 localities, a second round of voting will be held on November 3. Party of Socialists candidates have advanced to the second round in 175 populated areas (including in Chisinau), Democrats – in 173 towns and villages, ACUM candidates – in 167, Liberal Democrats – in 44, Ilan Shor Party – in 38, Our Party in 20, Communists in 16 localities, and in 84 populated areas one of two finalists is an independent candidate.

The CEC has also presented the results received in 4 single-member constituencies upon the processing of all voting protocols. In constituency #17 (Nisporeni) the best result was shown by Democrat Genadie Verdes (13.4 thousand ballots), in constituency #33 (Chisinau suburbs) – by Vasile Nastase of ACUM bloc (10.8 thousand), in constituency #48 (Slobozia, Tiraspol, Bendery) – by Socialist Vitaly Evtodiev (909) and in constituency #50 – by Galina Sajin of ACUM, with 6.8 thousand ballots.