PRELIMINARY RESULTS OF SECOND ROUND: ACUM - 91 MAYORS, PSRM - 83, DP -- 71
05 november, 2019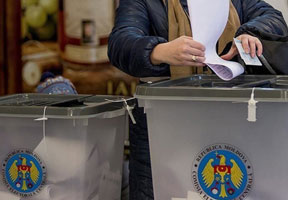 The Moldovan Central Election Commission has today announced the preliminary results of the second round of the mayoral elections held on November 3 in 384 populated areas in Moldova.

ACUM bloc candidates won in 91 localities, Party of Socialists' - in 83, Democrats - in 71, Ilan Shor Party - in 30, Liberal Democrats in 22, Our Party in 14, the National Unity Party (PUN) candidates - in 5 localities. The European People's Party of Moldova (EPPM) will receive two mayoral mandates each, and the socio-political Movement of Professionals "Speranta-Nadezhda", the Forta Noua Party, the Liberal Party, the Ecologic Green Party (PVE) and the Popular Will Party - one mayor each. Another 49 mayors have won as independent candidates.

In three populated areas namely in the villages of Balabanesti (Singerei Raion), Hiriseni (Telenesti Raion) and Hirova (Calarasi Raion), both candidates polled the same number of ballots. So, the mayoral posts will be given to the candidates who had polled more in the first round.

Out of the 384 mayors elected yesterday, 300 are men and 84 are women. The youngest mayor is aged 25, and the oldest one - 72.

The voter turnout on the average in the republic was 40.34% (648.7 thousand voters), and in Chisinau city - 37.78% (240.5 thousand).

The Democratic Party has thus preserved leadership by the number of mayors: in the two election rounds, the Democrats have received 262 mayors, the Party of Socialists - 207, the ACUM bloc - 173, the Liberal Democratic Party - 48, the Ilan Shor Party - 43, Our Party - 24, and the Communist Party - 10 mayors.