PRESIDENT DODON REGARDS PROBABILITY OF GOVERNMENT RESIGNATION AND SNAP ELECTION AS "VERY HIGH"
08 november, 2019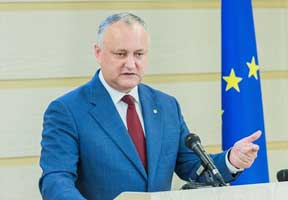 Moldova President Igor Dodon presumes that the probability of Sandu Government's resignation and of snap election holding to be "very high", he stated to journalists following the consultations held with ACUM bloc deputies on Friday morning.

"The Socialists can see only 2 possible ways out: either the Government revokes its Law on amending the Law on the Prosecution Service adopted by the Government last Wednesday by assuming responsibility on itself before the Parliament; or the Party of Socialists submits to parliament a draft Resolution on dismissal of the Government. The ACUM bloc is insisting that the Government's Law should be left in force, or that the Parliament should approve the same document today", said Dodon.

The President has proposed deputies to revoke the Law from parliament and to send the governmental initiative to the Venice Commission of the Council of Europe for consideration.

"We regard the Law as one going contrary to the Constitution. In 30 days from now, the Venice Commission will start considering a package of laws on Moldova, so we can well ask the Commission to give its conclusion on this Law as well. But our ACUM colleagues would not agree to this, though they realize it is undesirable to sharpen the crisis and provoke an early parliamentary election", said Igor Dodon.

The President urged all the parties concerned to agree to a compromise before the parliament plenary meeting scheduled for 15.00 hours on Friday.

"I called all deputies to not burn bridges. It cannot be excluded that in case of Sandu Government's resignation, another Government may be formed next week, which will also be a PSRM/ACUM government. Nothing can be excluded. The Party of Socialists shall not agree to creating coalitions with other parties", stressed the President.

In his opinion, decisions should be taken with an account of national interests, "but an early election does not correspond to our national interests. Our citizens are tired of crises, unending elections and instability".

"However, the probability of a snap parliamentary election currently is very high. If we fail to achieve a compromise, a draft parliamentary Resolution on a vote of no confidence in the Government will be submitted to parliament, and the document will have to be considered as early as next week", said the President.

Asked about the development partners' reaction to a possible resignation of the Government, Igor Dodon replied: "The partners judge by concrete deeds. They have stated many a time that they support not concrete politicians but the process of reforms and the people who promote the reforms".