SANDU GOVERNMENT REMOVED FROM OFFICE
12 november, 2019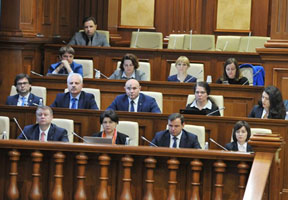 On Tuesday, the Government of Prime Minister Maya Sandu was removed from office. The parliamentary Resolution on a vote of no confidence in the Sandu Cabinet was voted for by 63 MPs in the 101-member Parliament of Moldova namely by 36 Socialists and 27 Democrats. ACUM bloc representatives voted against the dismissal, and the Shor Party faction abstained from the voting.
The no-confidence initiative was put forward by the pro-presidential Party of Socialists last Friday. The PSRM is part to the incumbent governing coalition, whose other part in the right-wing ACUM bloc. However, the Socialists decided to remove the Government after it had decided on November 6 to delegate a part of its plenary powers to the Prime Minister in the process of selecting a candidate for Prosecutor General. The Government then approved amendments to the Law on the Prosecution Service by assuming responsibility before the Parliament – without consultations or agreement with the Party of Socialists.

According to the legislation, after a government resignation, parliamentary factions begin consultations on forming a new parliamentary majority. After the consultations with the factions, the President puts forward a candidacy for Prime Minister. The Parliament may be dissolved if it does not vote confidence in a new Government within 45 days after putting forward the proposal, and only if the proposal is rejected minimum twice.