PRESIDENT DODON PRESUMES HIS ADVISER ION CHICU MAY BECOME NEW PREMIER
13 november, 2019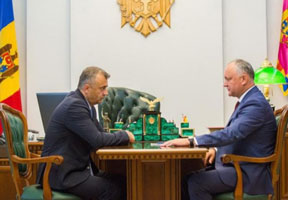 Moldova President Igor Dodon presumes that Presidential Adviser Ion Chicu, ex-Minister of Finance, may be appointed as the country's next Prime Minister.

Speaking on the Moldova-1 public television channel on Tuesday night, the President said that this is a suitable candidacy for prime ministerial post.

"I have known Mr. Chicu since 2005, when he was my subordinate in the Ministry of Economy. Then he worked in the World Bank, and was Minister of Finance in the previous Government. He is a very valuable specialist in the sphere of finance. I invited him to take the position of Presidential Adviser. I guess he could be a very suitable candidature for the premier's post".

However, Igor Dodon stressed he has not yet decided finally concerning the candidate because according to the law he must first hold consultations with all parliamentary factions.

"Presently, there are two variants of approving a new government. Either the Party of Socialists and ACUM bloc preserve their current parliamentary majority and in such case I am ready to immediately nominate a candidate for prime minister from ACUM, and of course this will be not Maia Sandu. Or the President takes initiative in his hands and nominates a prime ministerial candidacy himself", said Igor Dodon.

The head of state stressed that this is going to be a government of technocrats and not of politicians.

"Without forming an official coalition, Members of Parliament may appoint a minority government capable of success. Such government will be doing their job – exactly what citizens need, and will not be wasting time on political activities and statements, or sitting in the Facebook all day long. At the worst, we can agree that this government will work 9-10 months – until the presidential elections, so as to hold an early parliamentary election simultaneously with a presidential election in October-November 2020", said President Dodon.

In his words, the Sandu Government was dismissed [on Tuesday] due to its inefficiency and failures. That Government provoked a political crisis because it was not able to withstand challenges.

"What happened today [November 12] is only for the better. I am sure we will quickly form a new government that will be doing what the people are expecting from it", the President said, and offered an opinion that the new government may appear before the end of November.

Igor Dodon said that yet one more Presidential Adviser may well be offered a post in the new government – of Minister of Foreign Affairs and European Integration.

"This is Aurel Ciocoi, a career diplomat who worked as the Republic of Moldova's Ambassador Extraordinary and Plenipotentiary to Germany, China and the United States. I guess he could be a good foreign minister", said Igor Dodon.