PRESIDENT DODON NOMINATES CANDIDATE ION CHICU FOR PRIME MINISTER
14 november, 2019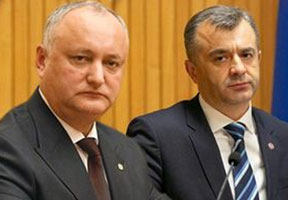 Presidential Adviser Ion Chicu has been nominated as candidate for the prime ministerial post. A Presidential Decree to this effect was signed by Igor Dodon on Wednesday evening.
"Mr. Ion Chicu has been appointed as candidate for Prime Minister of Moldova. He has been entrusted to work out the new Cabinet's Work Program, to form the personal composition of the Government, and to present his governmental team in the Parliament to receive a vote of confidence", the President said at the press briefing held very shortly after the Decree signature.

Dodon stressed that it is necessary to take decisions and approve the new team quickly in order not to leave the country without a government for long.

Ion Chicu, 47, worked as a professor in Moldovan Academy of Economic Studies (ASEM), in 2005-2008 – as Director of a Department in the Ministry of Economy and Trade under Minister Igor Dodon, then was an Adviser to First Deputy Prime Minister, and then a Deputy Minister of Finance. In that period, Ion Chicu was also a member of the EuroCreditBank Board, a member of the Board of Directors of the Council of Europe Development Bank (CEB), and in 2007-2009 – Deputy Chairman of the Moldovagaz Board. From April 2008 to September 2009, he was one of two State Advisers to Prime Minister Zinaida Greceanii and was in charge of economic issues and international relations.

In 2009, he worked at the World Bank Moldova Country Office as a consultant on the management of public financing in various projects. In 2016, Ion Chicu became a member of the Moldindconbank Board, and from January 2018 – General State Secretary of the Ministry of Finance. In December 2018 he was appointed Minister of Finance in the Democratic Party Government.

After a change of power in June 2019, Ion Chicu was appointed an Adviser to President Igor Dodon. Lately, he actively criticized the Government of Maia Sandu and international financial organizations, claiming that Moldova can manage without external funding.

Within 15 days from nomination, the candidate for prime minister is supposed to request the Parliament to vote confidence in the Government and its Work Program. On the basis of such vote of confidence, the President decrees appointment of new Government.