MORE THAN A HALF OF NEW MINISTERS WILL BE FROM AMONG PRESIDENT DODON'S ADVISERS
14 november, 2019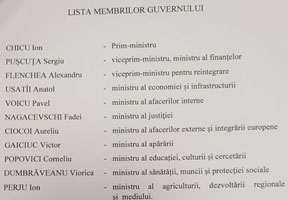 More than a half of ministerial posts in the new Government of Moldova will be given to current Advisers to President Igor Dodon, as can be judged by the list of candidates for ministers, presented to parliamentary factions by prime ministerial candidate Ion Chicu.
According to the list, six of the would-be Government's 11 members are Presidential Advisers currently. Namely, Ion Chicu is going to become Prime Minister; Aurel Ciocoi – Minister of Foreign Affairs and European Integration; Victor Gaiciuc – Minister of Defense; Corneliu Popovici – Minister of Education, Culture and Sciences; Viorica Dumbraveanu – Minister of Health, Labor and Social Protection; Ion Perju – Minister of Agriculture, Regional Development and Environment Protection. Pavel Voicu, the incumbent Minister of Defense since last June, and before that – a Presidential Adviser, will be appointed as Minister of the Interior.

Former National Tax Inspectorate Director Sergiu Puscuta will become a Deputy Premier and Minister of Finance; Alexandru Flenchea – Deputy Prime Minister for Country Reintegration; Anatol Usatii – Minister of Economy and Infrastructure Development; and Fadei Nagacevschi – Minister of Justice.

Later on Thursday, the Moldovan Parliament will approve the personal composition of the new Government and its Work Program. Such motion was included into the forum's plenary agenda on the proposal by Parliament Speaker Zinaida Greceanii.