PRESIDENT DODON OUTLINES 8 PRIORITIES FOR NEW GOVERNMENT
15 november, 2019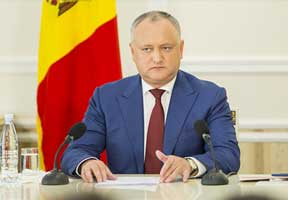 Moldova President Igor Dodon has outlined 8 work priorities for the new Government of Premier Ion Chicu. Speaking at the Cabinet's swearing-in ceremony on Thursday, the head of state said that first of all he is expecting that the new Government will ensure a noticeable growth of citizens' incomes.

"Everybody understands that the present-time Budget does not permit to pay high salaries and pensions in the republic. But with efficient management, it is possible to gradually raise citizens' incomes and thus protect the most vulnerable population groups. As for pensions, it would be really helpful for the elderly if we begin indexing pensions twice a year, and not once as now", said the President.

The second priority pertains to tariffs and prices: "I insist on carrying out a serious analysis of the situation and taking urgent measures to put an end to abuses in this field. I mean liquidation of monopolies that lead to unfair price formation and the rooting out of smuggling".

The 3rd priority is the security of citizens that is standing on a fairly low level now due to an alarming growth of crimes and traffic accidents.

"As the Ministry of the Interior has been long financed by the residual principle, our security sphere has gradually found itself in a chaos. But usual cops cannot be blamed for this. I know that there are many talented officers serving in the Interior. They are looking forward to having a minister who knows this system and how it works, and not a showman like the one we had last several months. So, I request that patrols of Carabineers must return to city and village streets to ensure citizens' security to let people feel safe", said the President.

Igor Dodon named reform of the justice system as "perhaps the most important of all".

"Last few years, including the last 5 months [of Sandu Government], there has been so much talking about the judiciary reform. But there was nothing more except talking. The previous governments used to work out documents having nothing to do with advanced international practices. As a result, Moldova has found itself under the severe criticism by the Venice Commission", stated President Dodon.

He called the new Minister of Justice to urgently revise the existing draft of the judiciary reform in strict accordance with the Venice Commission recommendations, "to learn on the mistakes of last 5 months so as not to make them any more at holding contests for important state posts".

The 5th and 6th priorities are the finding of best solutions in the spheres of education and public health, and road infrastructure development.

"Yet another essential priority is the country's economic development, with a serious attention to be attached to raising incomes and to attracting foreign investments. Without money we cannot do anything out of what I have mentioned above. But money starts coming only to a healthy economy. This means that we must eradicate such a shameful and harmful phenomenon as tax avoidance, must develop a competitive business environment, root out fraudulent schemes in economy, and manage public funds effectively", said the head of state.

And ultimately Igor Dodon mentioned the need for a balanced and efficient foreign policy.

"Realization of the EU-Moldova Association Agreement is remaining a priority task, like is the restoration of strategic partnership relations with Russia and the United States. It is very important in conditions when we have so many compatriots scattered all over the world and when we need powerful external partnership relations for realization of fundamental reforms. This is perhaps the only sphere where the previous Government reached a certain progress, so now we must further strengthen our relations with neighbors Romania and Ukraine and with strategic partners", said the Moldovan President.