PREMIER ION CHICU TO PAY HIS FIRST FOREIGN VISIT TO MOSCOW THIS WEEK
18 november, 2019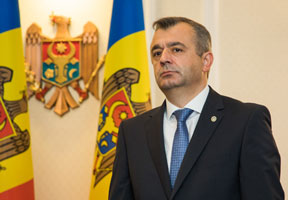 New Moldovan Prime Minister Ion Chicu will pay a working visit to Moscow later this week, he told a briefing following his consultative meeting with President Igor Dodon and Parliament Speaker Zinaida Greceanii on Monday morning.
"This meeting has been long agreed on between the Premiers of Moldova and Russia, but due to incomprehensible reasons it has failed to take place, despite the importance of economic relations with the Russian Federation. By the present moment, a multitude of important questions have accumulated to be solved between the two countries such as transport problems, the stagnating condition of our agricultural exports to Russia, the gas supply question, enlargement of the list of our goods exported to Russia, and extension of the timeframe for the exports of goods without customs duties", said the Prime Minister. Ion Chicu said that he has planned for this week also many other events at home and abroad, such as e.g. on the invitation of EBRD President Suma Chakrabarti he will attend the Eastern Partnership Investment Summit to be held in London on November 22.

"I will go there to discuss with the Prime Ministers of neighbor countries the deepening of our relations, and with EBRD representatives - an increased financing of infrastructural projects", said the Moldovan Premier.