MOLDOVA STILL NEEDS REFORMS EVEN AFTER MAIA SANDU'S GOVERNMENT HAS GONE – PETER MICHALKO
02 december, 2019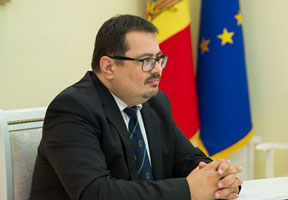 Ambassador Peter Michalko, Head of the European Union Delegation to Moldova said in an interview to the "Cotidianul" newspaper that the need of conducting reforms in Moldova has not disappeared after Maia Sandu's Government has gone.

"The resignation of Sandu's Government, which was pro-reformist, led to disappointment and concerns from the side of the EU, because the reason for it was a question of principle that concerns the reform of justice. The reform is a priority in Moldova-EU cooperation. We hope that the process of reforms, which has started in June and allowed resuming our assistance to Moldova, will be continued. We have no register of evaluation for governments, but I have to say that the Sandu's Government was the most reformist. It has political will, while Moldova started to fulfill the commitments", Michalko said.

According to him, now it is very important to prevent the returning of negative practices, including shadow schemes in economy, the smuggling, which have just been eliminated.

"It is important that these schemes not to be resumed, while those involved in them not to come back to control the society. It is also unacceptable that others to adopt these schemes", the diplomat said.

He maintains that much in this issue will depend on the new Prosecutor General. Michalko said that the EU recognizes the results of the contest and the procedure of appointing new prosecutor Alexandru Stoianoglo.

"We will be judging by results. It is important that the chosen candidate to be executing his duties independently and impartially in order to make changes to better. We were following this process at all stages. I disagree with the assumption that it was known from the very beginning who will be chosen and I think that now we should see how the new prosecutor will be fulfilling his duties", Michalko said.

He stressed that one of the new prosecutor's priorities must be the investigation of the bank fraud.

"It is important that the Kroll report was published and it became possible to find out the names of those involved in the fraud. The achievement of results in the investigation will become a proof of political will. The investigation should be continued. There are important steps, which should be made, to achieve results. I saw that the investigation on the Shor case is not progressing and it is very sad that there is no progress on other cases either", the Head of the European Union Delegation to Moldova said.