NO ACTIONS HAVE BEEN TAKEN SO FAR TO RETURN THE STOLEN MONEY – PRESIDENT
05 december, 2019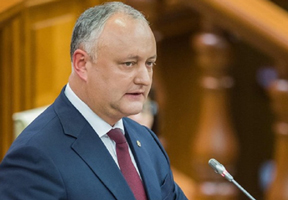 President Igor Dodon stated after the Supreme Security Council sitting on Wednesday that no action have been taken for returning the money, stolen from banks, to Moldova.

"We decided to urgently consider the possibility of conducting a contest for selecting an international partner, who will be engaged in returning the funds. This is an international practice, someone has to seriously engage in this issue", Dodon said.

He reminded that such a recommendation was proposed by the International Monetary Fund (IMF), which insists on conducting a thorough investigation of stealing money from banks.

"So far, we managed to regain 2.4 billion lei (US$137 million), arrest was imposed on property worth 1.2 billion lei (US$68.5 million lei). Dozens of criminal cases were opened, several persons were declared wanted, but all this is happening at the internal level. There are insufficient measures at the international level", the president said.

He added that according to the Kroll report, oligarch Vladimir Plahotniuc, business Ilan Shor and ex-Premier Vlad Filat were the main suspects in the bank fraud.

"Investigative activities should be conducted against them. At the same time, Plahotniuc and Shor are hiding abroad, while Filat was released from prison on conditional early release on Tuesday", Dodon said.

Answering to journalists' questions on canceling the law on the procedure of returning the stolen money, he said that this issue was also discussed.

"I do not understand why the "Demnitate si Adevar" [DA, "Dignity and Justice"] Party faction have not come earlier with an initiative on canceling. We are studying this issue and will do everything possible at least to reduce the interest rates on the National Bank credit", Dodon promised.

He accused the previous Government that it has not taken actions for canceling the agreement on concession and for returning the Chisinau airport to the state.

"Much publicity has been made by the previous Cabinet of Minister in this regard. On September 10 the Government addressed to court, but the case has still not been adopted for consideration. In practice, the Government did nothing for accelerating this process", the president said.