​PARLIAMENT BUREAU REFUSES TO INCLUDE DEFENSE MINISTER DISMISSAL QUESTION INTO PLENARY AGENDA
05 december, 2019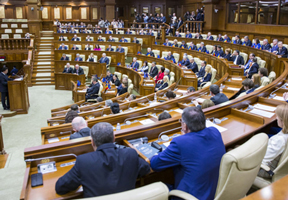 At its ordinary working meeting held on Wednesday afternoon, the Moldovan Parliament Permanent Bureau refused to include the question of discharging Minister of Defense Brig.-Gen. Victor Gaiciuc into the forum's plenary agenda.
A majority of Bureau members voted against discussing this question namely five Socialists and Honorable Chairman of the Democratic Party Dumitru Diacov. Inclusion of this question into the plenary agenda was demanded by ACUM MPs and Deputy Speaker Monica Babuc, a Democrat. And DP Chairman Pavel Filip walked out of the room in protest.

The Socialists offered the following motivation of their refusal: the reason of the demand to dismiss the minister were his personal, private sayings heard over 3 years ago, and not at all shortcomings in his activities as minister, to which post Gaiciuc was appointed only 2 weeks ago.

As was already reported by Infotag, last week the ACUM bloc submitted to the Parliament the draft of a parliamentary Resolution on a vote of no confidence in Defense Minister Gaiciuc. The ground for demanding the experienced military expert out was a post that appeared in the Internet not long before, in which Gaiciuc "admired the high combat spirit of the Donbass separatist military units" and stood up "in support of mercenaries fighting for Donbass and of the Russian military aggression against Ukraine", as the ACUM deputies wrote.

General Victor Gaiciuc categorically rejected those unfounded accusations. He stated to journalists that he had said those words yet in 2016, in a totally different context, and that his sayings were torn out of the context and misinterpreted. As for Ukraine, Gaiciuc stated he had always supported its territorial integrity.

According to the law, the draft of a parliamentary Resolution on dismissing a minister of government may be submitted by a group of minimum 15 deputies. The draft must be considered at a parliament plenary meeting, whose date must be set by the Parliament Permanent Bureau.