​ACUM BLOC TRYING TO DISCHARGE A SECOND MINISTER OVER ONE WEEK
06 december, 2019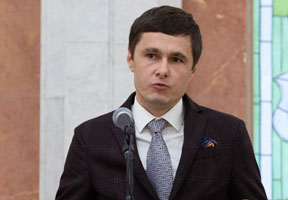 The two parliamentary factions forming the ACUM bloc – of the DA Platform party and of the Party of Action and Solidarity (PAS) – have submitted to the Parliament the draft of a parliamentary Resolution on a vote of no confidence in Minister of Justice Fadei Nagacevschi.
Parliament Speaker Zinaida Greceanii remarked at the forum's plenary meeting on Friday that Nagacevschi had been appointed to the post shorter than one month ago [November 14], "and he has not yet got acquainted with the whole ministry, but you are already trying to discharge him".

Greceanii read out the ACUM-proposed draft Resolution text that said: "For a definite excess of office, for interference into the judiciary system, for profanation of the justice reform idea, the initiative is put forward to discharge Nagacevschi from the post of the Minister of Justice".

Zinaida Greceanii handed the draft Resolution text with deputies' signatures to the Parliament's Legal Department.

Earlier this week, the Parliament Permanent Bureau refused, by a majority of votes, to submit for parliament's consideration an analogous draft of parliamentary Resolution – on dismissing Minister of Defense. The Bureau members stated that the ACUM initiative was aimed not against the minister's inefficient activities but against the personality of the minister, namely his sayings made over 3 years ago, when General Victor Gaiciuc was not a minister yet.

As was already reported by Infotag, yet in 2016, he took part in a scientific conference called "The Orthodox Church of Moldova and the State: Faith and Knowledge", organized by the Moldovan Academy of Sciences. In his conference report, he focused primarily on the morale, patriotism and the combat spirit of an army – any army.

"One should understand that the motivation, with which the military perform their duties, is sometimes stronger than the logistics they have. I drew the examples of small armies, who were not very well equipped technically and logistically, but whose motivation in an armed struggle was very high. I referred to the example of Donbass. And now I am being accused of worshiping separatists. But I have always respected and shall further respect Ukraine's territorial integrity!" Gaiciuc stated to the press.