DA PLATFORM STANDS FOR UNITARY MOLDOVA WITHOUT WHATEVER FEDERALIZATION
11 december, 2019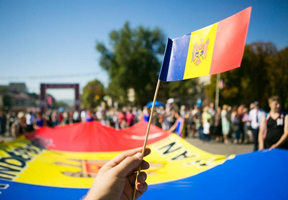 The political party called Platform "Demnitate si Adevar" [DA, "Dignity and Justice"] stands up for a strictly unitary character of the Moldovan State and categorically rules out any variant of its federalization, DA Platform parliamentarians stated during their meeting with Ambassador Claus Neukirch, the Head of the OSCE Mission to Moldova, on Tuesday.

According to the DA press release, the conversation focused on possibilities to settle the Transnistrian conflict proceeding for an idea that the settlement is to be sustainable and based on a broad consensus in the society.

"The unitary system of Moldova just may not be a subject of talks! A federal model is unacceptable for us, particularly the one based on ethnicity criteria because this will open the Pandora's Box with an account of the existence of [the southern Moldovan autonomous region of] Gagauzia. A model of a bicameral parliament is also not good for Moldova because a minority of the population will start imposing its will and solutions upon a majority", stated the Chairman of the parliamentary DA Platform faction, Deputy Speaker of the Parliament.

Slusari stressed that the only sound legal basis for a Transnistrian conflict settlement is the 2005 Law on the Main Provisions of a Special Legal Status of Populated areas on the Left Dniester River Side.

The DA deputies also stand for decentralization of Moldova in a belief that the present-day structure, consisting of 33 raions [districts], is not viable, so the way out may be in the regionalization of the country, with an account of the Transnistrian region, too, which may be offered an autonomy on certain aspects of development analogous to other regions.

"We want to have a normal, peaceful, civilized coexistence. Artificial ethnic vulnerabilities cannot serve an argument for resolving the crisis because the ethnic Russians are not subjected to whatever discrimination here! The problem is in another thing - in foreign military presence and in manipulations on the basis of an alleged ethnic discrimination to justify this military presence. So, as long as Russian troops are present in our territory, Transnistrian conflict settlement is impossible. The military factor destabilizes the situation, and Tiraspol is a pretext for influencing on the Moscow-Chisinau relations and for a control over the Balkans", presumes MP Chiril Motpan, DA Platform Secretary General.

In the opinion of MP Iurie Renita, had there been no external destabilizing factor in Moldova, there would be no ethnic problems here.

"There are over 200 secondary schools in Moldova using Russian as the language of instruction. The Russian language feels very comfortably in our country, including in Gagauzia. The autonomous region has to save and develop its native language because it is being massively replaced with Russian", said the deputy.

In the opinion of the DA lawmakers, "Moldova has created all necessary conditions and mechanisms advantageous for Transnistria, a broad spectrum of freedoms - without demanding anything in exchange, except reduction of the Russian propaganda and withdrawal of foreign armed forces from the Republic of Moldova territory".