GUAM PREMIERS DISCUSS CREATION OF FREE TRADE ZONE
13 december, 2019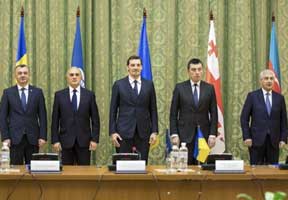 The Prime Ministers of Georgia, Ukraine, Azerbaijan and Moldova, taking part in a Summit of "The Organization for Democracy and Economic Development GUAM", being held in Kiev, are discussing the possibility of establishing a zone of free trade between these countries.

Ukraine Prime Minister Alexei Goncharuk said at a news conference on Thursday that GUAM is "an organization focusing on deepening of economic cooperation, and the representatives of our 4 countries have agreed about focusing precisely on this".

"There are two priority directions we can see. The first one pertains to the creation of a free trade zone between the GUAM states. All the four countries share the opinion that we should not have trade borders or barriers. Businesses should feel free. This can create advantages not only in trade ties between the 4 states but also in trade with other countries. The second ambitious project is the creation of a transport corridor that may eventually develop into a good trade way that should substantially build up our trade turnover. All this will facilitate the economic development of our countries and, naturally, will permit to better develop together", said the Ukrainian Premier.

Goncharuk said that at the Kiev Summit, the GUAM countries signed 2 documents – Protocols of Intentions pertaining to the work of the 4 Customs Services. The first one is the Protocol of Intentions between the Customs administrations on the reciprocal recognition of plenipotentiary economic operators. The second one is the Protocol on the using of block-chain technologies at verification of certificates of the origin of goods transported across the GUAM countries' borders.

Moldovan Prime Minister Ion Chicu said: "We all understand that the making of such zone a reality will mean a growth of trade turnover not only between the GUAM countries but also attraction of investments from other states. I guess that during the year 2020 we can complete this process, and we should embark on this work without a delay".