IGOR DODON SAYS NOBODY CAN DISCHARGE ION CHICU GOVERNMENT
27 december, 2019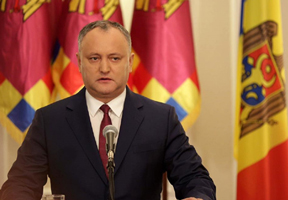 President Igor Dodon firmly believes that the incumbent Cabinet of Ministers has all chances for remaining in office until the expiry of the incumbent Parliament's mandate in 2023, he said on the local television on Thursday night.

"There is not a single chance for discharging the Government of Premier Chicu. In the Parliament, there is no majority that would wish such resignation. The Democratic Party does not need this. I don't know how solid the DPM faction is, but out of its 30 deputies, 27-28 definitely don't want a snap election", stated Igor Dodon.

In his opinion, at the moment, a snap election would be welcomed only by Maia Sandu's Party of Action and Solidarity (PAS) and by the Ilan Shor Party.

Dodon substantiated: "In case of an early election, the Democratic Party will win much fewer seats in parliament than it has now. The DA Platform will, most probably, remain outside the Parliament. PAS would like the elections because it can win several mandates more than its 12-13 mandates in the forum currently. And Ilan Shor Party would like to have the elections – in the hope that another conjuncture will appear, in which the party will be in a higher demand. Presently, the Shor deputies play the role of theatrical supernumeraries in the Parliament".

President Dodon confirmed that the question of government structure changing is being discussed by the country leadership, "and in about February we may decide to consider Premier Chicu's proposals concerning changing of the government structure, reorganization of some ministries and a staff reshuffling in them".