MOLDOVAN METROPOLITANATE REGARDS THE REMOVAL OF CRUCIFIX FROM MoI HALL AS ACT OF BLASPHEMY
15 january, 2020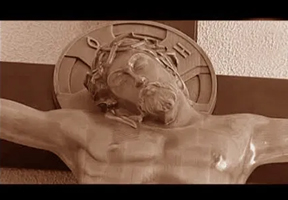 The Moldovan Metropolitanate condemned the decision of the Council for Prevention and Elimination of Discrimination and Ensuring the Equality (Equality Council) to remove the crucifix, installed in the hall of the Ministry of the Interior headquarters.

"The Moldovan Orthodox Church regards this decision as unfair and shortsighted and supports the reaction of most Moldovan citizens to preserve the crucifixes in country state institutions. The presence of fundamental symbols of European Christian civilization, such as the cross, is useful and necessary", says the statement, published on the Metropolitanate's website on Wednesday.

The document, signed by Metropolitan Vladimir of Chisinau and All Moldova, reminds that there is a cross on the Republic of Moldova's emblem in the beak of the eagle.

The Orthodox Church of Chisinau and All Moldova stated that the decision to remove the cross is discrediting the national majority.

"We insistently call on members of the Equality Council to revise this decision", the document states.

In December, the Equality Council declared as illegal the installing of a crucifix in the Ministry of the Interior hall and stated it should be removed, while ex-Minister Andrei Nastase should bring apologies for the installed cross.

In his turn, Nastase stated he is not going to deny Christian faith even at the Council's demand. He also cannot dismantle the crucifix, as he was dismissed in November and now has no power to do this. The new Minister of the Interior Pavel Voicu stated he is neither going to engage in removing the cross.

While being head of the MoI, Andrei Nastase installed a crucifix on the wall in the MoI headquarters' hall on September 15. The ceremony was attended by Metropolitan Vladimir of Chisinau and All Moldova and Metropolitan Petru of the Bessarabian Metropolitanate.
Hello Dear, are you in fact visiting this site regularly, if so after that you will definitely get good
knowledge. https://www.woori777.com