​PAS LEADER MAIA SANDU WANTS EARLY PARLIAMENTARY ELECTION
16 january, 2020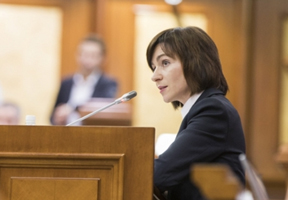 The Republic of Moldova needs to hold a snap parliamentary election because the incumbent Parliament "is not a reflection of the people's will", but is merely the product of the mixed election system imposed on the nation by Vlad Plahotniuc specially for the February 24, 2019 parliamentary election, believes the Party of Action and Solidarity (PAS) Chairperson, ex-Prime Minister Maia Sandu.
Speaking on the local television on Wednesday night, she stated evasively: "It is necessary to invent a method to provoke a snap election", without elaborating on how she is going to achieve this.

In her words, "An analysis of future actions is already under way" and "If you have good intentions and are insistent and persistent, you can achieve anything". Sandu is convinced that "Dodon and his Socialists will fall sooner or later".

"As for the Democratic Party, with whose help it is theoretically possible to provoke a snap election", Sandu remarked that "So far, that party has not yet got sufficiently cleansed of corrupt personalities, who are quite many there".

Answering a direct question if the PAS is holding any discussions with the Democratic Party, Maia Sandu replied negatively.

"The Democrats do not give grounds to believe that they are purging their party. They had a real chance to prevent the previous [her] Government's dissolution. But instead of that, the Democrats demonstrated they can agree to any bargain with Dodon", said the PAS leader.

Commenting on the forthcoming presidential election, Maia Sandu reaffirmed that her party's main goal is "to spare the country of Dodon".

"We stand ready to discuss any well-grounded arguments", said Maia Sandu, who does not think that a presidential candidate should necessarily be politically neutral, as the DA Platform called on Wednesday.