ROMANIA IS NOT SURE THAT NEW MOLDOVAN GOVERNMENT IS FOLLOWING EUROPEAN PATH - PRESIDENT KLAUS IOHANNIS
17 january, 2020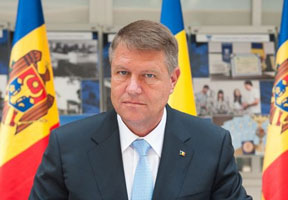 Romania is not sure that the new Cabinet of Ministers of Moldova keeps following the European path, stated Romanian President Klaus Iohannis at the Thursday's meeting with heads of diplomatic missions, accredited in Bucharest.
The president stated that Romania will resume the full cooperation with the Republic of Moldova when it sees that actions for European course continuation are adopted at the governmental level.

"As for the Republic of Moldova, I repeat the Romania's position: the European path is the only and safest way to deeply reform the institutions that may bring tangible benefit to its citizens. Unfortunately, as I said, we are not sure at all that the current Chisinau Government is following this goal", Iohannis said.

According to him, Bucharest will keep financing only the projects in Moldova that are designed directly for citizens, the projects at the local level and the strategic unification projects.

"We will resume all-sided cooperation only when we see concrete actions at the governmental level, directed to continuation of the European course, the process of reforms, especially in such fields as justice, administration and combating of corruption, which may ensure the democratic path predictability to the country", Iohannis stressed.

As Infotag has already reported, last week Romanian Prime Minister Ludovic Orban stated in Brussels that the new Moldovan Government cannot be regarded as a serious partner.

"After the vote of no confidence, issued by the PSRM, the Dodon's party, which led to the collapse of the Maia Sandu's Government and later - to the formation of a PSRM Government, without one clearly articulated pro-European political force, which had our and not only our support and was guaranteeing to us the Moldova's pro-European course, everything that is happening in Moldova after that is an involution that raises concerns and, from our point of view, we cannot regard the incumbent Government as a serious partner", Orban said.