DA PLATFORM STANDS FOR CLOSING DOWN OLIGARCHIC REGIME'S POLITICAL LITIGATIONS
28 january, 2020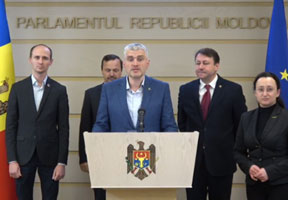 The parliamentary DA Platform faction will be insisting on passing by the Moldovan Parliament of a Declaration on closing down the political litigations initiated by the oligarchic Plahotniuc regime. The draft of the Declaration, registered with the Parliament Secretariat, was presented at a press briefing by MPs Vasile Nastase, Chiril Motpan and Dinu Plingau on Monday.

They reminded that on June 8, 2019 the Parliament approved the Declaration on the Captured State of Moldova, which document recognized that in the period of the Democratic Party's rule, state institutions in Moldova were used to the detriment of the interests of the country and its citizens. During the captured state period, a multitude of citizens – political and civil society activists, lawyers, judges, human-right activists, journalists etc., "whom the dictatorial regime perceived as its mortal enemies, were subjected to repressions and intimidations, and criminal litigations were fabricated against them".

The Declaration drafters underlined that despite the numerous proofs of terror against citizens, the incumbent authorities would not formulate their official position on all this.

"That's why we believe it is necessary to adopt the Declaration on ceasing the political litigations in order to return to the fundamental principles of the supremacy of law, legitimacy of the judiciary process for the sake of restoring citizens' trust in state institutions and rehabilitating the victims of the regime's political pressing", said the document authors.

In February, the DA Platform will organize public hearings on this issue within the framework of the parliamentary Standing Committee on Human Rights and Inter-Ethnic Relations.