​DPM MAY FORM COALITION WITH ANY POLITICAL FORCES – CHAIRMAN PAVEL FILIP
07 february, 2020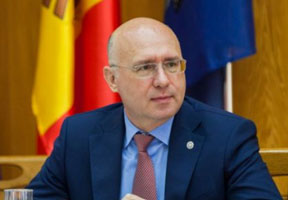 The Democratic Party of Moldova may form a coalition with any political forces – Left or Right, DPM Chairman Pavel Filip stated on the Moldova-1 national television channel on Thursday night.
"The experience of last few years shows that there can be no efficient country governance in Moldova without the Democrats' participation. The latest proof to this is the recent governing coalition of the right-wing bloc ACUM and the left-wing Party of Socialists. There may be no stable structure between extremities. But the Democratic Party is in the center of the Moldovan political chessboard and may form a coalition with the right as well as with the left", said the former Moldovan Prime Minister.

However¸ the coalition formation question was not and is not being discussed, he said.

"Power is not an end in itself – it is a possibility to realize one's program. An indispensable condition for this is the obtaining of instruments for realization of one's electoral pledges and for working in the interests of citizens and the country. If there is a possibility to create a political construction for meeting these interests, then we will enter into such a political construction, and it does not matter who this may be", said the DPM Chairman.

"At the moment, there is no governing coalition in Moldova. We have supported the Chicu Government, and we are sure it can work efficiently. And with Socialists we meet only to discuss priorities for passing decisions in Parliament. We are not discussing any coalition", stressed Pavel Filip.

Answering the program host's question about the possible staff reshuffling in the Government President Igor Dodon spoke about recently, Filip said: "This is Prime Minister's prerogative. The Premier bears responsibility for his Government, and he is eligible to raise reshuffling questions. We don't interfere into this".

In his words, the Democratic Party is being reformed "to become a real political formation".

"Until now, all parties in Moldova have been associated with their leaders. We want to create a real, classical political party, where the opinion of each party member matters. Now there reigns is democracy in our party. There are differing opinions, and we discuss them, and eventually a minority obeys to a majority", said Pavel Filip.