WORDS ARE NOT ENOUGH, IT IS TIME FOR ACTION - LUC DEVIGNE
21 february, 2020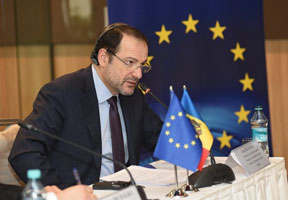 The time for words in relations between the Republic of Moldova and the European Union is over, now the time for actions has come, said European External Action Service Director for Russia, the Eastern Partnership, Central Asia and the OSCE Luc Devigne at the Thursday's press conference.

He said that the Moldovan Government wants to be judged by its actions, but not words and this is what will happen in future. "During long time, we have been hearing just words. This time I also was presented many excuses for example why the bank fraud investigation has not been concluded yet. Sorry, but this is not enough. We have been supporting you for long time, we were patient, but now the time of action has come", Devigne said.

In this connection he said that one of conditions for providing macro-financial assistance is the observance of the principle of law supremacy.

"We do not have a judgmental attitude. We will be objectively assessing the Government's actions", he said.

Speaking about Moldova's activities within the Eastern Partnership, Devigne said that success is registered in the field of branch cooperation - trade, education, healthcare.

"However, there are problems in the field of the supremacy of law. We saw political instability, changes in power. We see the judicial system, which has not been reformed and which does not work properly. This is the major problem", he maintains.

Answering to the question about Moldova's chances to approach even more to the EU, Devigne said that except the membership in the EU, the association is the deepest form of cooperation.

"I want to say that Moldova's repute depends on the adopted measures in relation to respect to the rule of law. I think it is the sphere Moldova can and should be doing more, as well as fulfilling the made commitments to get closer to the EU", he stressed.