MOLDOVA PRESIDENT'S WEEKLY COMMUNICATION WITH CITIZENS: IGOR DODON NAMES THREE POSSIBLE SCENARIOS OF POLITICAL SITUATION DEVELOPMENT IN MOLDOVA
21 february, 2020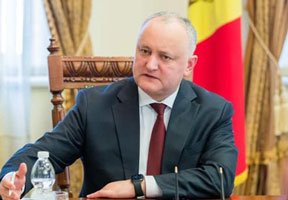 In the course of his traditional weekly live Q&A communication with citizens on his YouTube channel and social networks held every Friday morning, President Igor Dodon said today that in the absence of a stable majority in the Parliament, the Government will be "a technical and minority one".

"It will be proposing draft laws, which deputies will be voting for", said the head of state.

As a second scenario, Dodon named "an official coalition, which possibility should not be ruled out completely. In the current conditions, this may be a coalition of the Party of Socialists and the DPM, if certainly the Democratic Party gets reformed and cleansed".

And the 3rd scenario is an early parliamentary election, "which will actually become a problem for Moldova because in such case most of socio-economic projects may be blocked or suspended".

"For the Party of Socialists, a snap election is no problem. But for the country as a whole, this may become a problem, not to mention extra financial expenses – some 70-80 million lei. Who wants a snap election? Maia Sandu wants because she is outside the Parliament now and wants to return there. Ilan Shor wants because he desires to destabilize the situation, seeing that the Prosecutor General has embarked in earnest on the investigation into 'the theft of the century' [one-billion-dollar bank fraud] and into the transaction with the Chisinau airport. Ilan Shor hopes that in case of an early parliamentary election, the country will be in turmoil and will forget about his existence for a while", said President Dodon, who does not regard a snap election to be a real, good way out of the situation.

Dodon said that irrespective of which scenario is realized, Prime Minister Ion Chicu shall remain Premier at least until the end of 2020, "and actually I would like him to be heading the Government throughout the whole mandate – until 2023. He manages his duties quite well, though some of his ministers could well be replaced".