PRESIDENT DODON INTENDS TO TOUGHEN LEGISLATION TO PREVENT CORONAVIRUS SPREADING
09 march, 2020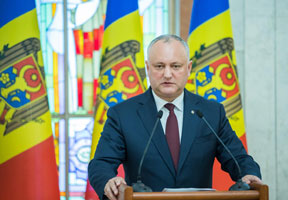 The country legislation should be toughened for preventing the spreading of the new COVID-19 virus in Moldova, said President Igor Dodon at the Monday's press conference after the traditional weekly meeting with Speaker of the Parliament Zinaida Greceanii and Prime Minister Ion Chicu.

"The Government is taking all the necessary measures for preventing the infection spreading. However, this is not the fight of just one person, one party or the Government. The entire society should be responsible, citizens should take care of their health, the health of people around them, their relatives and the close ones", the president said.

According to him, there are many cases when citizens demonstrate irresponsibility, at arrival to airport they are improperly filling out the questionnaires about their state of health, present false information about the country they arrived from.

"Thus, there is the need to toughen the legislation. Punishment should be introduced for citizens, who deliberately mislead the responsible bodies – there should be large fines, up to criminal responsibility", Dodon stated.

He said that already on Wednesday the Government will approve a draft law in this regard, while before the end of the week the Parliament will urgently take the proper law.

"We have 700 thousand pensioners and 670 thousand minors in the country. All the people risk to get infected from a group of irresponsible persons, who do not want to indicate the place where they come from, are lying at the border that they come not from the infected zones, as well as evade examination and are running from hospitals. The extraordinary situation demands extraordinary measures", Dodon stressed.

The President also said that the law will imply the providing to the Government of powers to prohibit or restrict the conducting of mass events in connection with the threat to human health.

According to him, the authorities are also considering the possibility of extending the vacation for schoolchildren and suspension of kindergarten functioning, but according to international recommendation, such measures are introduced only after the virus spreads in the country, and currently there are no other coronavirus cases in Moldova registered.

Igor Dodon also called on politicians to refrain from speculating on the topic of coronavirus and instead of criticizing ideas on improving safety and preventing the disease spreading.