MOLDOVA AND HUNGARY CONCLUDE STRATEGIC PARTNERSHIP AGREEMENT
12 march, 2020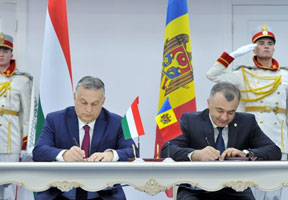 The Heads of the Governments of Moldova and Hungary, Ion Chicu and Victor Orban, signed an Agreement on strategic partnership between the two countries in Chisinau on Thursday.

Premier Ion Chicu stated at a news conference held after the document signature that his dialog with the Hungarian colleague was substantive and meaningful, based on pragmatism and concrete things, "and this should permit us to subsequently proceed to concrete steps to be done for the good of both countries".

Chicu stressed that both countries are interested to support "the atmosphere of trust, solidarity and mutual respect".

"We discussed our economic cooperation and its potential. And although Hungary is standing only on the 13th place among our trade partners, I am sure its economic presence in our republic can be increased. Hungary is one of top-investors in the Moldovan economy, with renowned Hungarian companies working here, such as e.g. OTP Bank, and I welcome the company's intention to expand its business in Moldova", said Prime Minister Ion Chicu.

He thanked the Hungarian Government for its intention to disburse US$100 million to strengthen economic ties between the two countries. Chicu stressed that the Agreement's primary objective is the expansion of bilateral relations and support for Moldova's European integration. And the first step, prescribed in the document, is "support by Hungary of the European integration of Moldova".

Victor Orban stressed that the relations between the two countries "are on a high level, without even a slightest sign of hostility".

"I presume that it is in the European Union's interests to establish a close strategic partnership with neighbor countries on the Union's eastern border. Moldova has signed with the European Union an Association Agreement, an agreement on visa-free regime. But there exist also other cooperation possibilities, and Hungary will back Moldova, if it uses them. I advise looking for any possibility of interaction with the European Union. We understand the Moldovan Government's position and we do the same work – defend national interests", said Prime Minister of Hungary Victor Orban.

During the Thursday's negotiations, the parties discussed, inter alia, ways of interaction for combating the coronavirus pandemic.